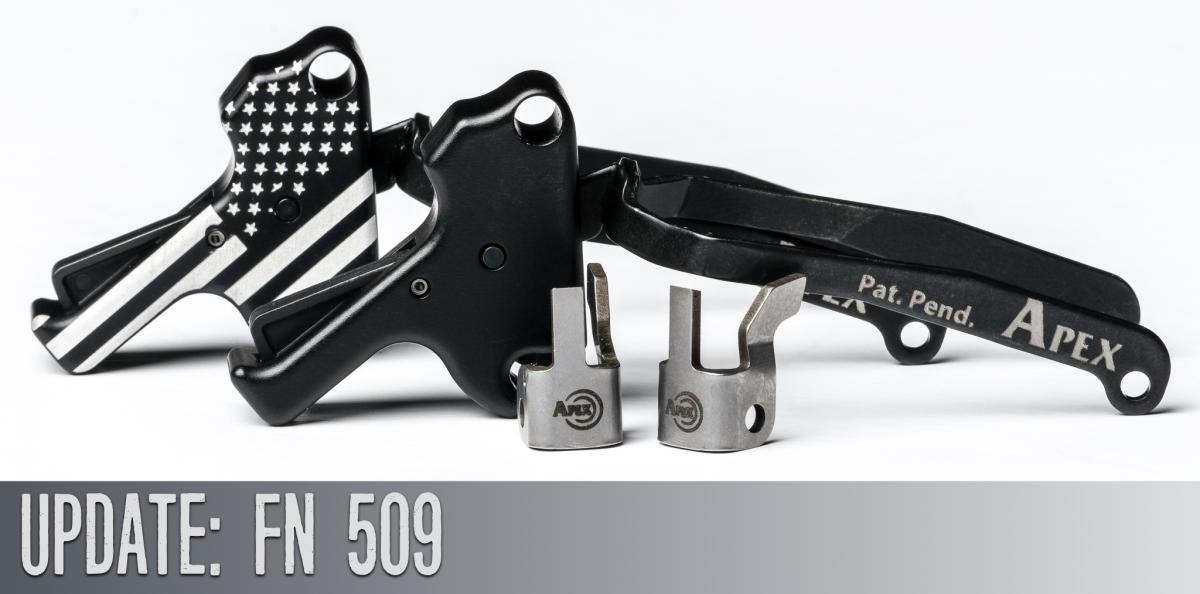 Let me start off with stating a simple truth. Apex has been promising a trigger for the FN 509 pistol for about two years, and we will deliver. The long development time have frustrated those customers that are beyond eager for an Apex upgrade.
We understand your frustration because we share it. However, our process here at Apex is not like that of others in our segment of the industry.
At Apex we start from a purely engineering approach to design, which is influenced by both our experience as shooters and as master gunsmiths. We know how to get you a great feeling trigger, but as engineers we adhere to an aggressive level of product testing and quality control.
For instance, Apex invested in a high-speed camera for filming our drop-tests so we could see exactly what was happening to the gun at impact and on the rebound. We also increased our drop height to six feet, and instead of dropping on to plywood on concrete, we drop directly on to the concrete. We've also been expanding the temperature range in which we conduct those drop-tests to determine the effect high and low temperatures will have on the materials we use.
Speaking of materials, Apex puts a great deal of thought into the materials selected for the parts we make. To insure the quality of the materials we use we recently implemented a strict certification process to insure our vendors are delivering the proper materials.
These are standard practices with the larger manufacturers in our industry but are time consuming and costly for smaller companies like ours.
However, we have a standard to meet here at Apex and it's the one we set.
So, what does that mean for the FN 509 project? Glad you asked. The Apex FN 509 trigger kit will include the following Apex manufactured components:
– Solid body machined aluminum trigger with a Polymer Injection Molded safety
– Patent Pending Trigger Bar
– Performance Sear
The trigger bar is in full production and currently out to finishing. Once they arrive back from finishing our quality control team will conduct final inspection and laser engrave the trigger bars so they are ready for assembly.
The trigger body itself is waiting on the finalization of the polymer safety and safety spring. Using our high speed camera during drop testing we discovered the trigger safety bounces more than is acceptable according to our specification. We presently have new trigger springs being made for testing, if those springs work as intended, we will proceed with spring and safety manufacturing. But, we won't know how effectively the spring works until we have it in the gun for drop-testing.
The sear is being folded now by our stamping vendor. If all works properly, we can use the sear to finalize the trigger body pre-travel and over-travel stops to our specified dimensions.
When all three of those elements are in place we will begin testing again. If we discover a problem, we will come up with a solution, implement it and test again. This is how research and development goes when you actually do your own R&D.
Apex's specifications for products are very firm when it comes to quality and function. We will not budge on these things, the process to design, develop and manufacture our products will take as long as it takes to earn a place in the gun at your side.
As for a projected release date, we're shooting for a late summer release and we realize that summer is here and every day we get closer and closer to that end date. Can I promise you we'll meet that deadline? No, because meeting a deadline is not our goal. Meeting our own demands for quality and function, as well as your expectations when it comes to performance, is our goal. And it's not until we meet that goal that we'll release the Action Enhancement Kit for the FN 509.
Scott Folk
COO
Apex Tactical