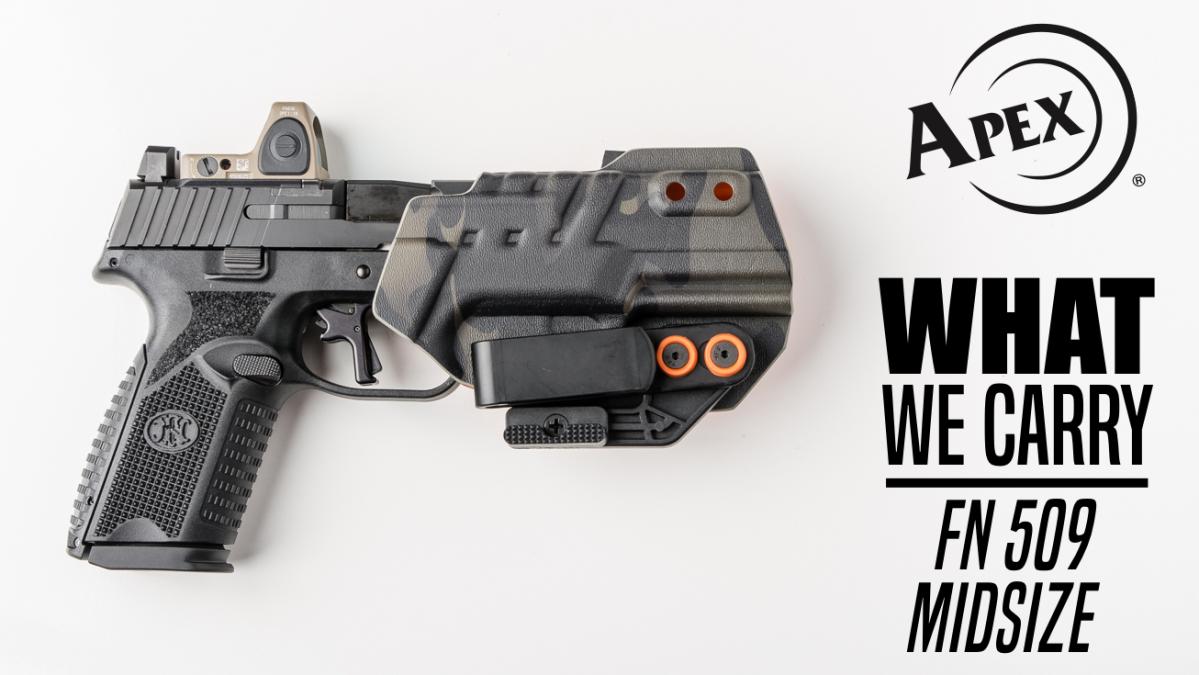 The FN 509 family of pistols has quickly become a favorite of ours. We had been working on a trigger upgrade for the FNS and FNS Compact, the predecessors to the 509, when FN America reached out to us to design an aftermarket upgrade for their yet to be announced FN 509.
That process took quite a while but we ended up with kits for owners of all three variants of FN's striker-fired pistols. We released our patent-pending trigger upgrades around the time that the FN 509 Tactical was released.
But, it was the introduction of the FN 509 Midsize in January of this year when the FN 509 line solidly moved into the everyday carry market, and quickly became one of our new favorites for an EDC.
You can find the specs on the FN 509 Midsize here on the FN website, but generally speaking it is in the same profile range as the Glock 19 and the M&P M2.0 Compact models, as Scott Folk explains in the video below.
The Midsize is the current EDC for Andy, who works here in our shop, and he's made a few changes to the pistol. The first change, and quite often the first upgrade of any FN 509 owner, is the addition of the Apex Action Enhancement Kit.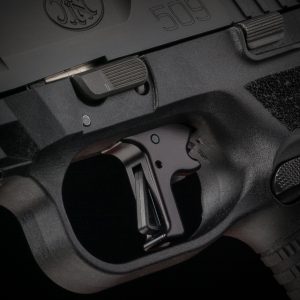 Our patent-pending design features a totally redesigned trigger bar which allows us to replace the hinged safety design of the stock trigger with the center-mounted pivoting safety trigger design. In this case it's a flat-faced trigger, because, you know, 'All Hail The Flatty.'
Once installed the kit reduces trigger pull weight to approximately the 5.5 lbs range. Trigger travel is also reduced, including pre-travel, over-travel, overall trigger travel and trigger reset distance. In terms of feel, it gives you a smoother uptake and delivers a crisp trigger break.
In other words, "Damn, this is much better."
Another Apex upgrade Andy made to the pistol was to swap out the stock extractor for the Apex Failure Resistant Extractor, a fully machined replacement for the factory MIM version. Apex offers Failure Resistant Extractors for the M&P, M&P M2.0, Glock Gen 3/5 and Gen 4 models, and now the FN 509.
Next came the Trijicon RMR in their Hard Anodized Coyote Brown. Now, you're probably thinking to yourself, "Does the FN 509 Midsize come already cut for optics? Because that would be awesome."
And it would be. It would be totally awesome, but the answer is a definitive NO. It does not come cut for optics.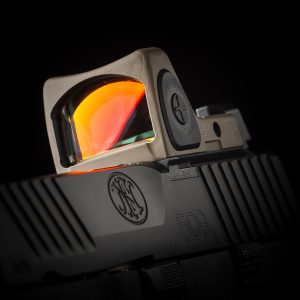 So, just exactly how did this guy manage to get his slide cut? And not with just any optics cut but FN's very own proprietary Low Profile Optics Mounting System™?
Well, Andy is a machinist. A good one, too. And he knows Lou, who does the programming. And they both know Scott, who owns the company, and had them working on a sorta secret but not really project to make a 5.00" optics ready slide for the FN 509.
A lot of machining goes into a project like that. And a lot of testing goes along with that machining. And perhaps in order to prove out the coding they machined a factory slide, or two – just for R&D purposes, of course.
And that's basically how Andy ended up with an FN 509 Midsize customized with the FN Low Profile Optics Mounting System™.
Running a reddot naturally required a change in the sights. Fortunately, Midwest Gun Works carries FN original equipment parts, like FN 509 Suppressor Height Sights. These were added to the slide to co-witness with the RMR's dot. These are standard iron sights and not night sights, in case you were wondering.
Finally, the Midsize needed a holster to ride in, unless it was going to go through its entire life as a 'truck gun.' Don't ask.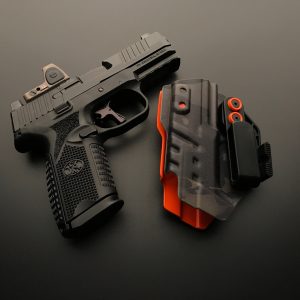 Andy reached out to TXC Holsters for a custom, 'build your own' version of their X1. Set up for right-hand draw, the single clip Kydex X1 rides inside the waistband. TXC roughly offers 21 different Kydex color options, as well as 11 color options for the rivets.
Andy went with Black Multicam for the front and Hunter Orange for the back. The rivets are also Hunter Orange. He added their optional Concealment Wing.
Like we said earlier, the FN 509 Midsize is now high on our list, and is an excellent personal defense choice, especially in this EDC configuration. If you are considering a compact double-stack for your everyday carry then we definitely recommend checking out the FN 509 Midsize. Rent one at your local range and give it a test drive to see what you think.