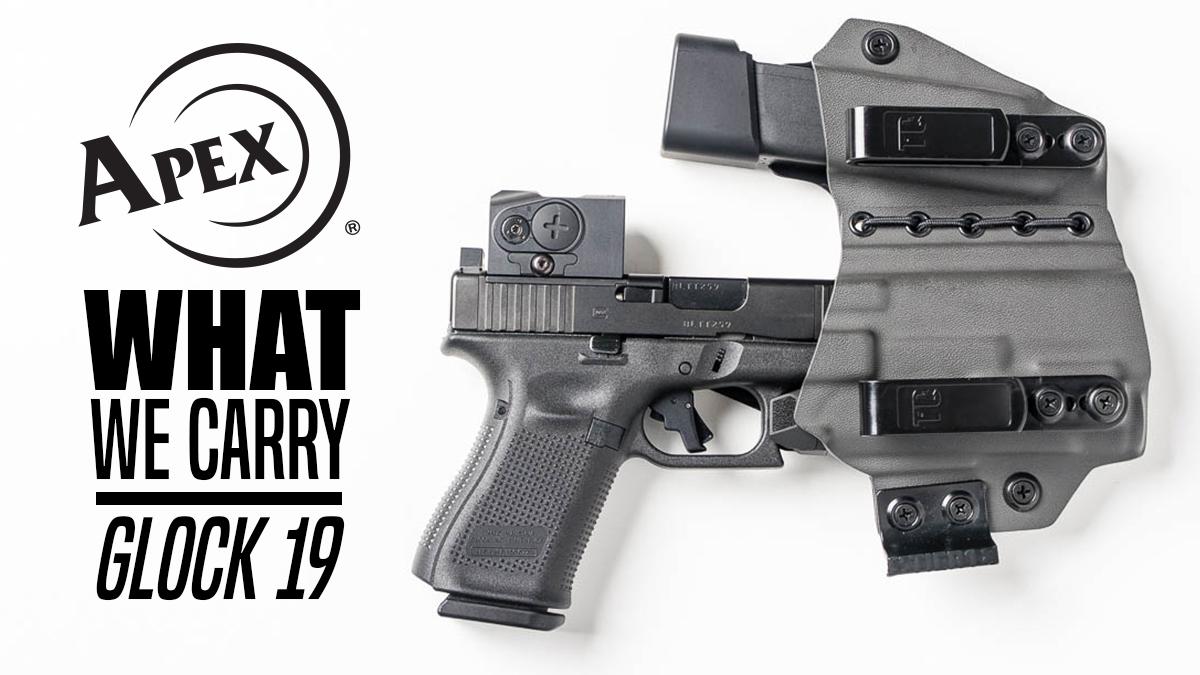 We all know
the story
. We've all seen the video. Late this past December the issue of carrying a firearm in church came front and center in our national discourse as Jack Wilson, a 71-year-old former reserve deputy sheriff, shot and killed a gunman during services at the West Freeway Church of Christ in White Settlement in Texas. The entire event took just six seconds, thanks to the quick actions of Wilson, and the forethought of a pastor who saw the need to protect his congregation with armed parishioners. Here in Arizona, the concept of an armed congregation isn't as foreign as it might be in other parts of the country. And in this installment of our 'What We Carry' series we take a look at a
Glock 19 Gen 5 MOS
that spends its Sundays in church. This is the third Glock pistol we've looked at in our "What We Carry" series. It is also the second G19, as well as the second Glock carried by Matt.
(see What We Carry: Glock 43)
This particular Glock 19 was set up from the beginning with the intention of being carried in church. However, in Matt's case, this isn't simply a matter of carrying in church for purely personal defense reasons but instead as part of the church's volunteer security contingent which means he had to think a little bit more deliberately about what to carry. In order to be approved as part of the security detail, Matt and others had to go through a firearms training program. This program is essentially the firearms component of basic police officer training standardized by the Arizona Peace Officer Standards and Training Board, or
AZPOST
. Of course, since Matt is an engineer here at Apex, and works on all the guns we design parts for, his role at the church is a bit broader. Being the most knowledgeable guy when it comes to firearms has resulted in Matt stepping up as the de facto armorer for the church's congregation. And he just might be the best church armorer in the country – assuming Scott and/or Randy aren't sitting in the church pews.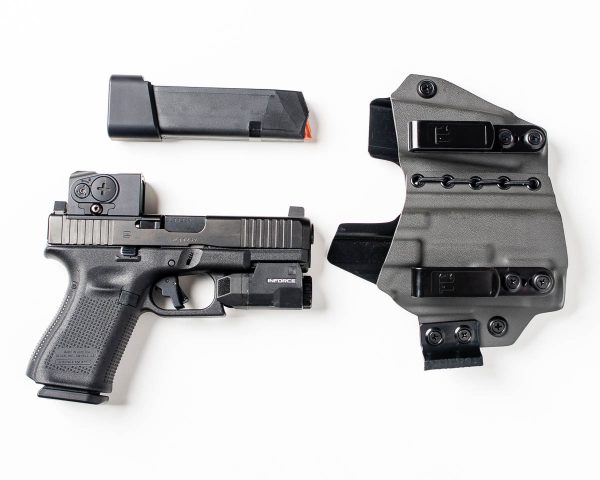 Setting Up A Church Gun
While his other carry gun is a Glock 43, for use at church Matt decided on a new
Gen 5 Glock 19 MOS
. Going with another Glock makes a lot of sense, and the 19 in particular. Aftermarket upgrades for the Glock are legion with a host of companies, including Apex, offering products to customize the pistol. Being an MOS model featuring Glock's Modular Optic System slide design, which allows you to mount various optics, as the name implies, Matt's plan all along was to equip the pistol with a reddot. It's the relatively new
Aimpoint® Acro P-1
that rides the slide of the Gen 5 19. Mounting it is easy since Aimpoint offers an Acro Adapter Plate for Glock MOS (item no. 200520), along with other popular pistol options. So, why the Acro? Well, Matt wanted an enclosed optic, making it a little more full proof, especially when it comes to eliminating dust and debris from obstructing the reddot. And yes, before you say anything, battery life does require management, but it is not as bad as you've been led to believe. The added height above the slide of this, or any other reddot, means swapping out the sights for suppressor height sights. These sights are upgraded to the
Ameriglo 3-Dot Tritium Suppressor Height Sights
.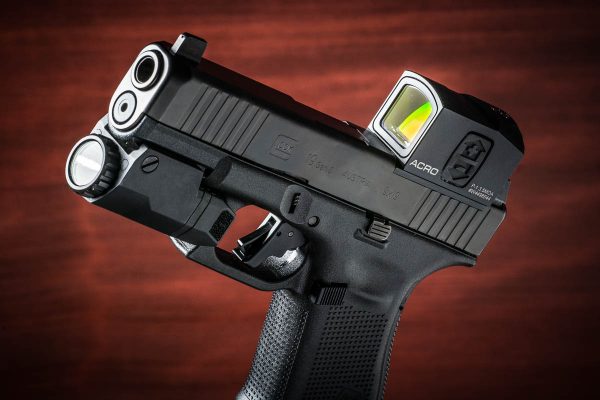 Of course, for us here at Apex, it's the trigger that makes the biggest impact on performance. Since the last thing you want in a gunfight is to fight the trigger, this G19 is upgraded with our
Action Enhancement Kit
for the Gen 5 Glock. This kit provides for a smoother trigger pull with reduced travel, reduced reset, a crisp break and approximately a 1 lb. reduction in trigger pull weight. And since trigger control is king when it comes to accurate shooting, a better trigger allows for more control. Not a bad idea if you have to draw your gun in a packed church. Wrapping up the total G19 package is an
Inforce APLc for Glock
with its 200 lumens of white light. A weapon-mounted light isn't needed in broad daylight, but comes in real handy inside when the lights go out. And it's good to have one when you need it. So, Matt's prepared should the need for light arise. Finally, this upgraded Gen 5 Glock 19 has to be carried concealed and to do that Matt selected a
Tier 1 Concealment Axis Slim
IWB holster. The Axis Slim is an appendix carry rig that utilizes shock cord to connect the pistol and the spare magazine. By using cord, the rig has more flexibility so the firearm can flex closer in to the body independently of the magazine, making it easier to carry throughout the wide range of daily activities. When it comes to carrying on a daily basis – or just to church on Sundays – you have to go with what works best for you. What works for Matt might be entirely different and not at all what you would choose, but that doesn't make this a bad setup. Not at all. And when it comes to defending an entire congregation, this might be just the ticket.