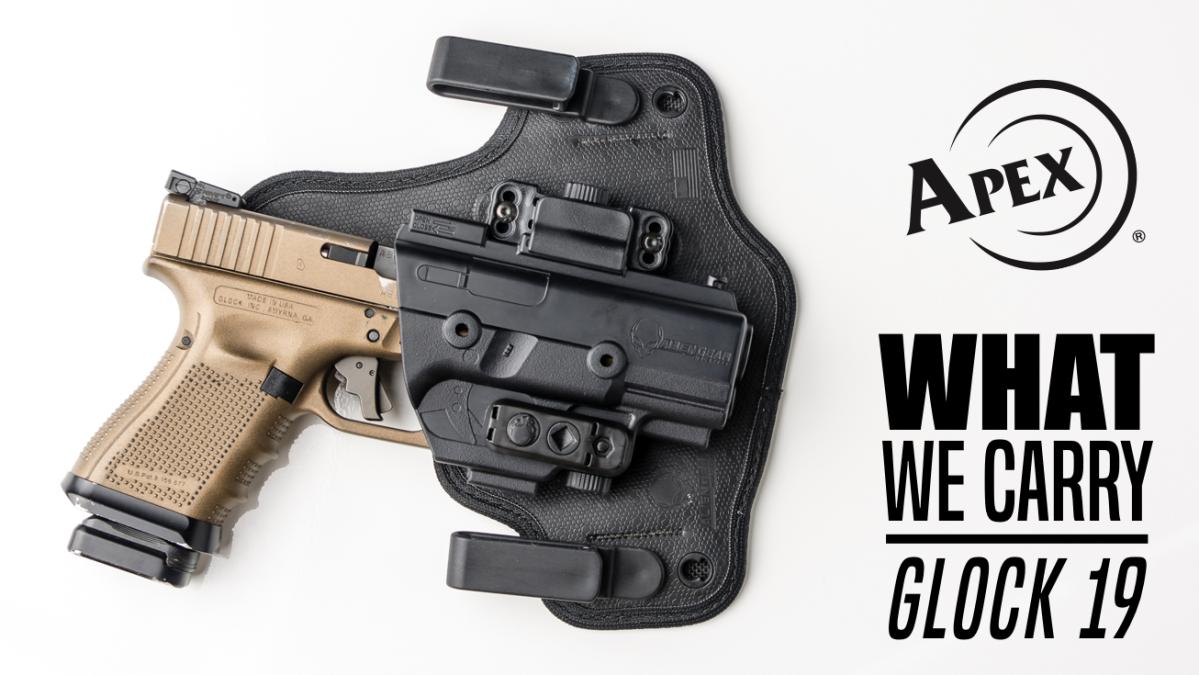 When you compare the overall size of the M&P M2.0 Compact, or the FN 509 Midsize, it is invariably in relation to one gun: the Glock 19. Glock, being a privately owned company, does not release data on its sales, so we don't quite know how many Glock 19 pistols exist in the world. One number we've heard placed it above 30 million. That is a shockingly high number, yet not unbelievable. Whether or not that number is correct is irrelevant. The fact is the Glock 19 is one of the most popular firearms on the market. As a compact pistol it is also a widely carried personal defense pistol, not to mention a major law enforcement sidearm. Here at Apex it's the pistol carried by Lou, and one look at his Gen 4 Glock 19 and you can tell it hasn't been 'lovingly carried.' You can also tell that it is not your typical Glock finish. This one is done in Burnt Bronze Cerakote. Lou picked it up locally at the
Scottsdale Gun Club
and, though not technically a factory finish, it is from a batch of distributor exclusives. Lou didn't want a black gun and went with the burnt bronze, which is a good looking, and quite popular, color even if Cerakote isn't the most durable of finishes.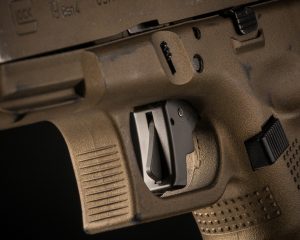 There are, of course, a number of upgrades to look at on this pistol beginning with the trigger, naturally. This G19 is equipped with the
Apex Action Enhancement Kit
which is comprised of the Apex trigger body on a trigger bar, the Apex Ultimate Safety Plunger and an Apex Performance Connector. The Glock platform is easy to work on and just about every other human being on planet Earth is a Glock armorer, or plays one on YouTube. Regardless, the kit is easy to install. The advantages of the kit are that is reduces the trigger pull weight by approximately 1 pound while reducing trigger pre-travel, overall travel and reset distance. The crisp trigger break is complimented by the smooth uptake and reset. But one of the most significant changes for those that switched over to the Apex trigger is that its broad, smooth trigger face is far more comfortable to shoot, especially since the center-mounted pivoting safety is designed to sit sub-flush when depressed.
As we noted previously
, the factory trigger can be unpleasant to shoot over long range sessions due to the safety blade sitting proud.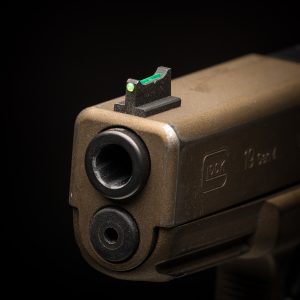 When it comes to sights, which almost everybody upgrades on the Glocks, a combo of Dawson Precision sights were selected. The front is their
Standard Front Fiber Optic Sight
. There are a lot of advantages to running a fiber optic sight, and you will find any number of competitive shooters running fiber optics because of their quick acquisition in daylight. Here in Arizona where it's sunny something like 380 days out of 365, a fiber optic front sight is a solid choice.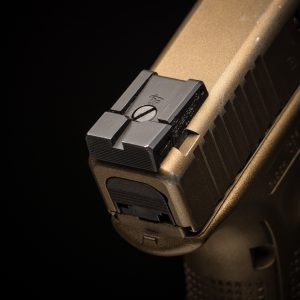 The rear sight is
Dawson's Adjustable Rear Sight
in black. It's a beefy rear sight which isn't a bad idea for a daily carry gun where a little added durability is preferred. The blacked out rear makes picking up and aligning the front fiber optic rather easy. Sights are the type of upgrade governed largely by personal preference, for sure, so you might prefer to go in a different direction than this combination. The old adage – though not sure how old it actually is – 'one is none' is definitely in play when it comes to your EDC and the number of mags you carry on you. Going with just one in your gun is a bold strategy, Cotton, but one that may not pay off. Carrying a second, backup mag is, well, just common sense. In this case, one mag is the standard length
Magpul PMAG 15 GL9
outfitted with an
Apex base pad
. The base pad doesn't expand capacity, but does add additional weight for fast magazine changes. This is the mag carried in the gun because it doesn't extend the grip and thus alleviates the risk of unwanted printing. The second mag does have added capacity with its
extended basepad from Dawson Precision
. With the basepad the capacity jumps to 19 rounds, which comes in handy if you've got to go to a second mag.
To make mag changes easier Lou installed an
Agency Arms Magwell
which, with its streamline design, is made to accommodate those carrying inside the waistband. Finally, the holster. To carry his Glock 19 everyday, Lou selected the
ShapeShift
from Alien Gear Holsters. This is the sixth different holster brand spotlighted in this series. It combines a low-profile injection molded shell with a neoprene backer that rests against the body for cushion and moisture repulsion. Best of all, for those of you considering this hoslter, the ShapeShift Glock 19 holster is compatible with all generations of Glock pistols, including Gen 5. If you are looking for an EDC that offers a little more capacity and may be a better fit for those of you with larger hands trying to avoid the subcompact models, the Glock 19 is absolutely a firearm you will want to consider. Besides the law enforcement pedigree, and all the history behind the pistol, the Glock 19 is also 'What We Carry.'