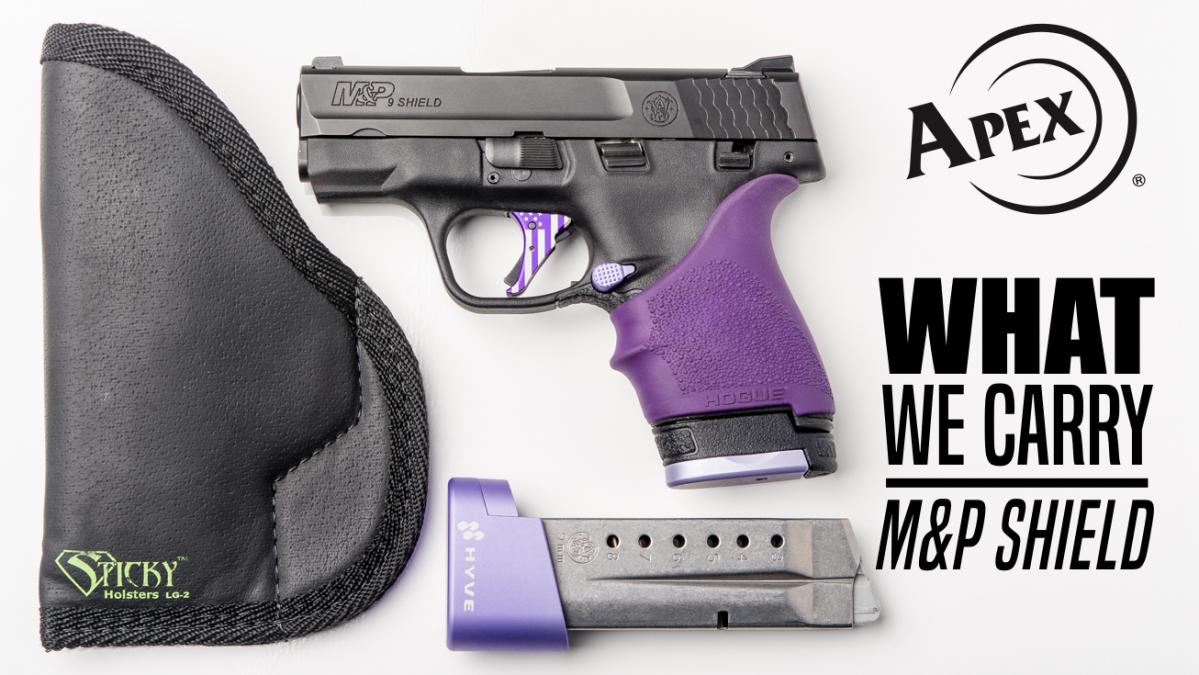 "I Love You You Love Me Is This Too Much Purple On An E-D-C"
The answer is, no. But, opinions may vary. Regardless, this is the second of at least six Shield pistols we'll be looking at in this series. You can check out
the first M&P Shield we covered here
. There's a reason the Shield is such a wildly popular everyday carry option, and that is particularly true here at Apex where we make a pretty good trigger upgrade for it
(yeah, just a bit of an understatement).
Today's Shield (a 9mm) is actually not owned by an Apex employee. It belongs to Donna, who is the wife of Doug who works in our customer service. We'd be looking at Doug's EDC but Doug doesn't carry a pistol we make a trigger for. This explains why every afternoon when he leaves the office it is to a chorus of "Shame! Shame!" that would make Cersei Lannister feel better about herself. Clearly Donna is the smart one in the family.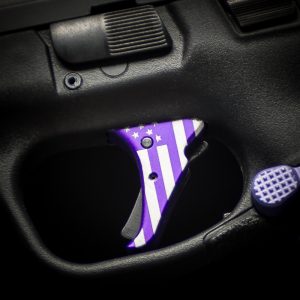 Let's take a look at the various upgrades incorporated in this pistol. The first, obviously, is the
Apex Action Enhancement Trigger & Duty/Carry Kit
. The purple trigger option is available on our site, but we don't offer this 'Freedom Edition' variant. It's another one of those custom jobs you get to do when you know the person running the laser, and how to properly beg. We are often asked by people who haven't had a chance to feel our triggers just how much of an improvement do you get in the Shield. The answer is that it's "a night and day difference." The combination of the trigger body, the sear and the safety plunger totally transform the trigger pull by reducing the pull weight by approximately 2 lbs. This puts you around 5.5 lbs, depending on where the stock trigger started. You also get a smoother uptake and reset with reductions in pre-travel, over-travel and reset. It is just a much more comfortable and responsive trigger to shoot. And in terms of an EDC, you want every advantage possible should things go sideways. When is comes to a gunfight, the last thing you want to fight is your trigger. In terms of handling the Shield, you'll notice the purple
HandALL Beavertail Grip Sleeve
. Made by Hogue, the HandALL adds width the grip area for a comfortable grip, including up into the web of the hand thanks to the extension of the sleeve up into the beavertail area of the gun's frame. Hogue offers the HandALL Beavertail Grip Sleeve in a number of colors and for a wide variety pistol makes and models. If you prefer a little more to the grip of your subcompact pistol you may want to check Hogue's website. The additional purple enhancements on the pistol are compliments of HYVE Technologies which has a number of options available to upgrade your favorite pistol.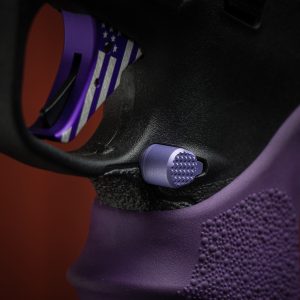 In no particular order, the first addition from HYVE is their
extended mag release
. Extended mag releases are extremely popular accessories, and not just for competition pistols. In an EDC application, under stress, you want to be able hit the mag release, and drop the mag, with ease when it's time to reload. Next we have a pair of magazine base pads. If you've been following this series then you probably remember that
the Glock 43 we first spotlighted
featured one of HYVE's +1 base pads. Here it's a
+2 base pad
(which only fits the 8-round magazine) and their
small mag base pad
, which does not expand capacity. For concealability you might choose to go with the small base pad to reduce printing and use the +2 base pad on your secondary magazine. Or vice versa depending on what you're most comfortable with.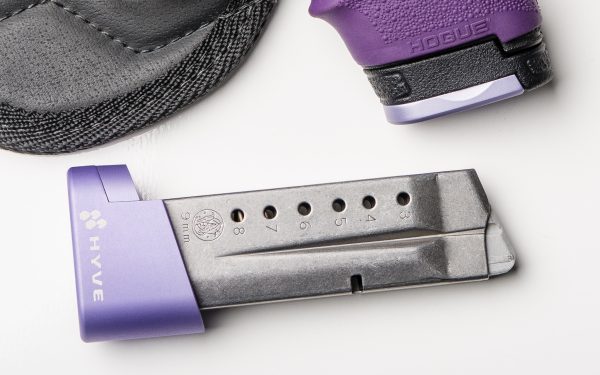 The final element in the triumvirate of HYVE accessories outfitting this particular Shield is one of the company's
customizable slide cover plates
. There are a number of color and custom engraving options to choose from and you can find these back plates for several makes and models of pistols.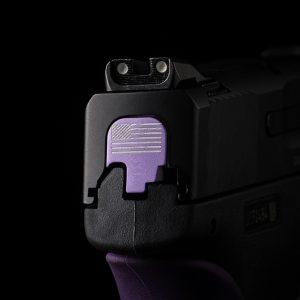 To complete the purple theme of this pistol, and continuing the flag motif of the trigger, Donna opted for the American Flag lasered slide cover. Swapping out the slide cover isn't to improve performance, obviously. It's about personalizing your pistol. This may not be your thing, and that's fine, but not everybody wants to take the Henry Ford approach to color selection. Ford famously said, "Any customer can have a car painted any color that he wants so long as it is black." That doesn't work in today's automotive market and it shouldn't in today's firearms market. If you want to spice up your EDC with some color then by all means do so. It's your gun so knock yourself out. Finally, to carry this 'purty' purple pistol, Donna,
just as Kayla did
, chose to go with a Sticky Holster. In this case it is the
Sticky Holsters LG-2 Large Sticky Holster
. The Sticky Holster design allows for a certain level of versatility in how one carries, and for women the ability to easily transition from inside the waistband to purse carry is important. This style holster might not be for everyone but for those that use them they seem to swear by them. As an EDC it's hard to beat the M&P Shield, and it is clearly a favorite here at Apex. If you are looking for a new EDC and haven't yet considered the Shield, do yourself a favor and rent one at the local shooting range and take it for a test drive. And if the factory trigger doesn't quite suit you, don't worry, 'you know a guy.'